frankenstorm
they knew this was coming...
Report by the National Research Council, 2010:
the destructive energy of Atlantic hurricanes is likely to increase in this century as sea surface temperature rises -"America's Climate Choices: Adapting to the Impacts of Climate Change". National Research Council, National Academies of Sciences, 2010 Climate Change Feeds Hurricane Sandy
"Frankenstorm" is the right name for Sandy, and indeed for many other storms and droughts and heat waves now. They're stitched together from some spooky combination of the natural and the unnatural. Some state will doubtless bear the brunt of this particular monster, but it also will do its damage to everyone's state of mind.
Bill McKibben on Why 'Frankenstorm' Is Just Right for Hurricane Sandy
The Federal Emergency Management Agency is preparing for Hurricane Sandy to disrupt next week's elections, agency Administrator Craig Fugate said Monday afternoon.
Hurricane Sandy: Could it push back the election?
Explosions, fires, and floods have devastated New York, killing at least six people state wide. As Hurricane Sandy hit the city it left over 50 houses ablaze, at least seven subway tunnels flooded, and overwhelmed the emergency services.
...
According to New York's Metropolitan Transportation Authority this is worst disaster in the history of the NYC subway system.
Hurricane hammers NY: 6 dead, houses destroyed by fire, freak floods in subway
At least 13 people were reported killed in the United States by Sandy, which dropped just below hurricane status before going ashore in New Jersey on Monday...
...
Sandy killed 66 people in the Caribbean last week before pounding U.S. coastal areas.
New York paralyzed as Sandy slams into eastern U.S.
The storm has already caused at least 13 deaths,
according to CNN
, and left nearly 7.1 million East Coast residents without electricity, according to
NBC News
. After the Storm: Surveying Sandy's Damage, and Looking Ahead
haunting images... (thx @Kate)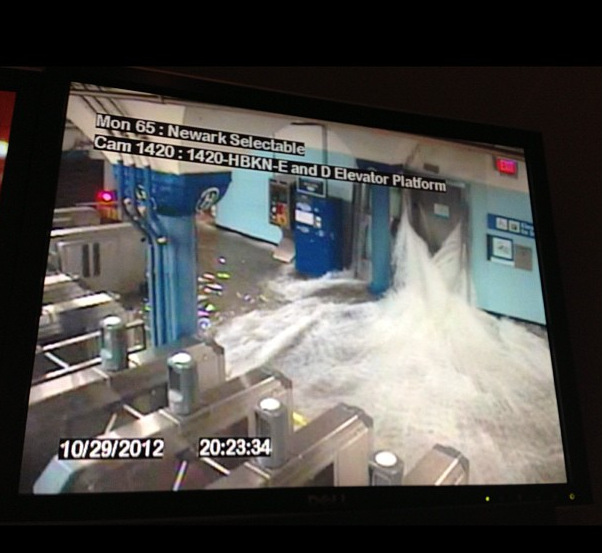 WTC construction site (why does it still look like crap...?)